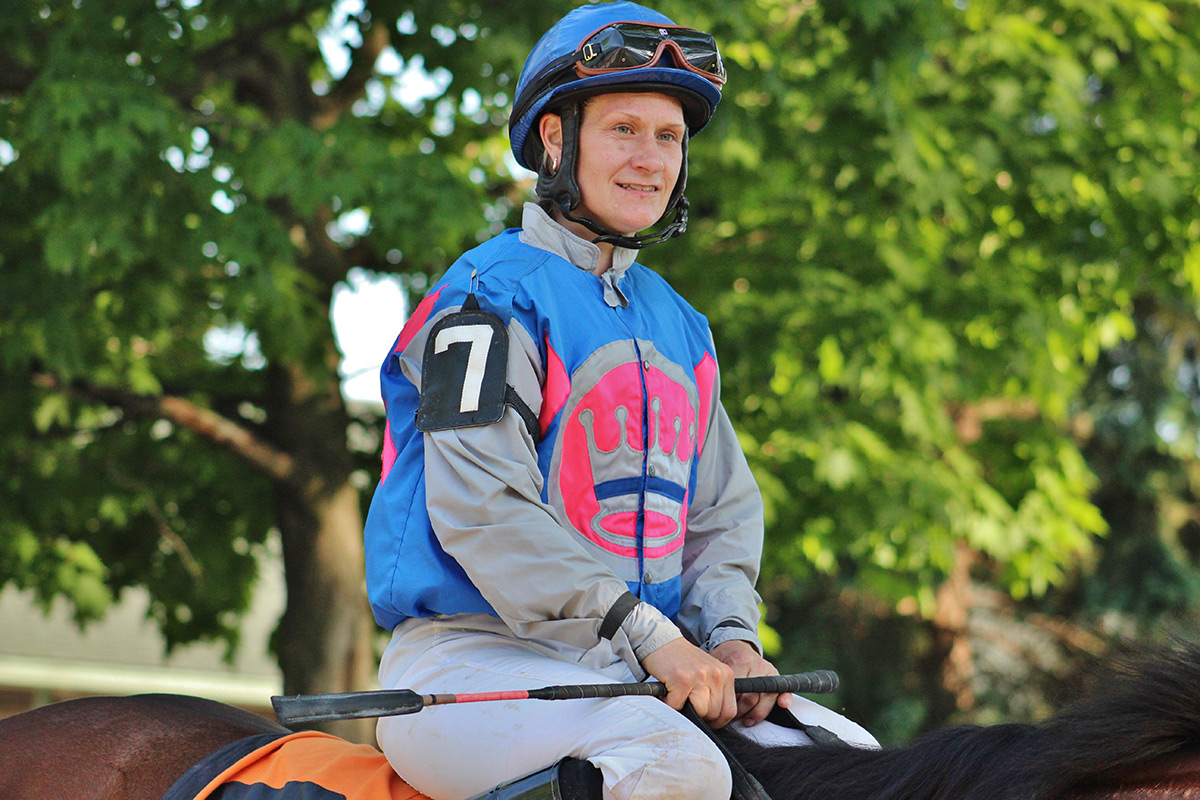 Helen Vanek came a complete circle thousands of miles and dozens of racetracks later at Picov Downs some 21 years ago. From the 38-year-old jockey's first race ride at Picov Downs some 21 years ago, Vanek has seen and learned much about horsemanship and riding while on the road.
Today, Vanek is doing double, sometimes triple, duty as one of Ajax Downs' leading Quarter Horse jockeys, a Thoroughbred jockey and assistant trainer with partner Nick Mileni Jr. for his stable of horses at Fort Erie racetrack.
"I enjoy what I do," said Vanek. "I got out in the world to experience and learn while riding with the best."
An active sports fanatic growing up in Toronto, Vanek played almost every sport available, from basketball, tennis, soccer, and horse sports, such as fox hunting, jumping, and barrel racing. She rode in Quarter Horse races at 17 as her family was involved in the industry. By the time she turned 20, she had got her Thoroughbred jockey license and, at 21, was named the year's Outstanding Apprentice Jockey at the Sovereign Awards.
For eight years, she did not sit on another Quarter Horse as she rode at Woodbine and Fort Erie (where she was the leading ride) and tracks along the east coast of the United States. In 2006 she joined the rider's colony at Canterbury Park in Shakopee, Minn., a track hosting mixed racing cards featuring Thoroughbreds and Quarter Horses.
"It was great there,' said Vanek. "They had race cards with boxing matches and entertainment. I got on Quarter Horses again, forgot how much I missed them."
But Vanek almost left riding altogether in 2009 when she dabbled in training at Canterbury with her then-husband John King. She managed a string of runners but ended up back in Ontario in 2011 when Fort Erie hosted some Quarter Horse races. Today, with Mileni having his stable of runners, she rides his runners and the Quarter Horses.
"They are so different," said Vanek about racing Quarter Horses and Thoroughbreds. "Quarter Horses are more intense: you need fast reflexes and a lot of upper body strength."
Vanek trains with Mileni at Fort Erie in the mornings, works out the Quarter Horses at Ajax, and then rides the races each Sunday. One of her main stables is that of longtime Ajax horsepeople Christine and Joe Tavares.
Vanek is encouraged by the improvements made by Ajax Downs for 2015 with the help of Branding & Buzzing (www.brandingandbuzzing.com), which include post-race interviews with jockeys and trainers and fan giveaways and contests.
"It's been fantastic," said Vanek. "I think they have done a great job promoting the sport, from the interviews with the jockeys to the drone flying over and showing races from that angle. I am really proud of [Ajax]. These additions make it so much more exciting for everyone, including trainers and jockeys."
Vanek has already started the 2015 Ajax season with several winners. All signs say the personable horsewoman will be one of the contenders for top rider honors at the end of the meeting.
---
Jockeys Agent | Unknown | +1-
---