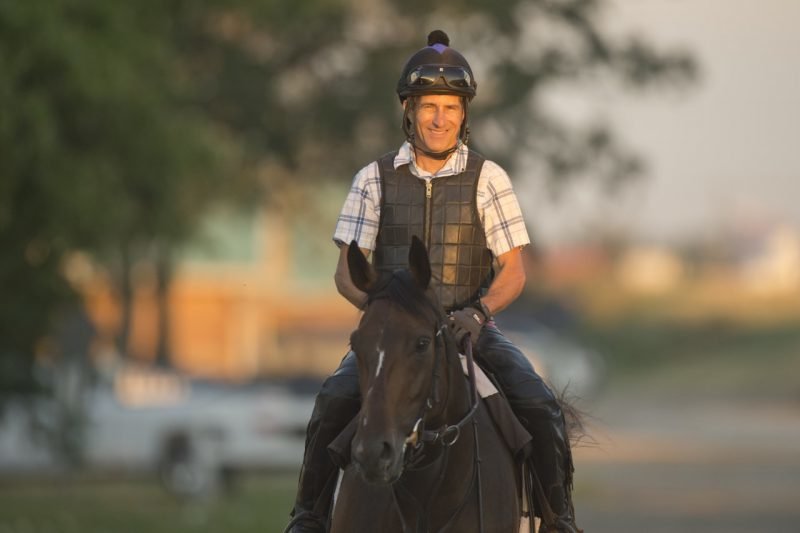 Slade Callaghan grew up on the beautiful island of Barbados surrounded by sea, sand, and surf; however, despite all the distractions, Slade had blinkers on and was focused on only one thing – to become a top thoroughbred jockey.
Slade's parents, David and Maureen, have backed him all the way, and his brother and ex-jockey, Brett Callaghan, gave him insight and inspiration.
Slade has always excelled at any sport he turned his hand to, such as tennis and squash. However, becoming a jockey appealed to him the most.
Despite his height of 5'8″, which is exceptionally tall for a jockey, he put his money where his mouth is and made a success of himself while earning millions of dollars for his horse owners through winning races in Barbados, Canada, and the US.
Slade earned his racing license at 16 in 1986, and after dedicated practice and determination, he won his first race in 1986. Unfortunately, shortly afterward, a severe accident left him with a shoulder injury requiring extensive treatment.
However, true to his determined belief that he would be a top jockey, Slade dusted himself off and was back in the saddle, winning his first race back in only ten months later.
He continued to race in Barbados until 1993 when he tried running in Canada, where he had seen his brother, Brett, ride at Woodbine. Canada is where his riding career took off.
His first Canadian win was at Fort Erie in 1994; in 1999, Slade won 60 races and six stakes. Despite suffering a fractured vertebra, which kept him out of the saddle for a month, Slade returned to racing by winning the New Providence Stakes. He continued his run of good form and won 48 races in 2000.
Over the next two years, Slade developed his reputation as a top jockey, gaining 43 wins in 2001 and 54 wins in 2002.
Slade continued to pull in the winnings and topped the $2 million mark in horse earnings for five years in 2003. He rose and took 67 wins in 2004, his best year in which he topped $20 million in horse purse earnings!
Since then, Slade has consistently won numerous races, including the Incitatus Cup on Barbados Day at Woodbine, the Grade 3 Connaught Cup, and the prestigious Grade 1 $1-million Woodbine Mile, – to name a few.
Slade is still riding high on success; in 2009, he won three stakes. Incredibly this fearless jockey not only holds down his glittering career but also has a beautiful wife, Kelly, and remains close to his parents, David and Maureen, and his brother, Brett.
By: Brett Callaghan – Totally Barbados
---
Jockeys Agent | Slade Callaghan | +1-416-988-6310
---