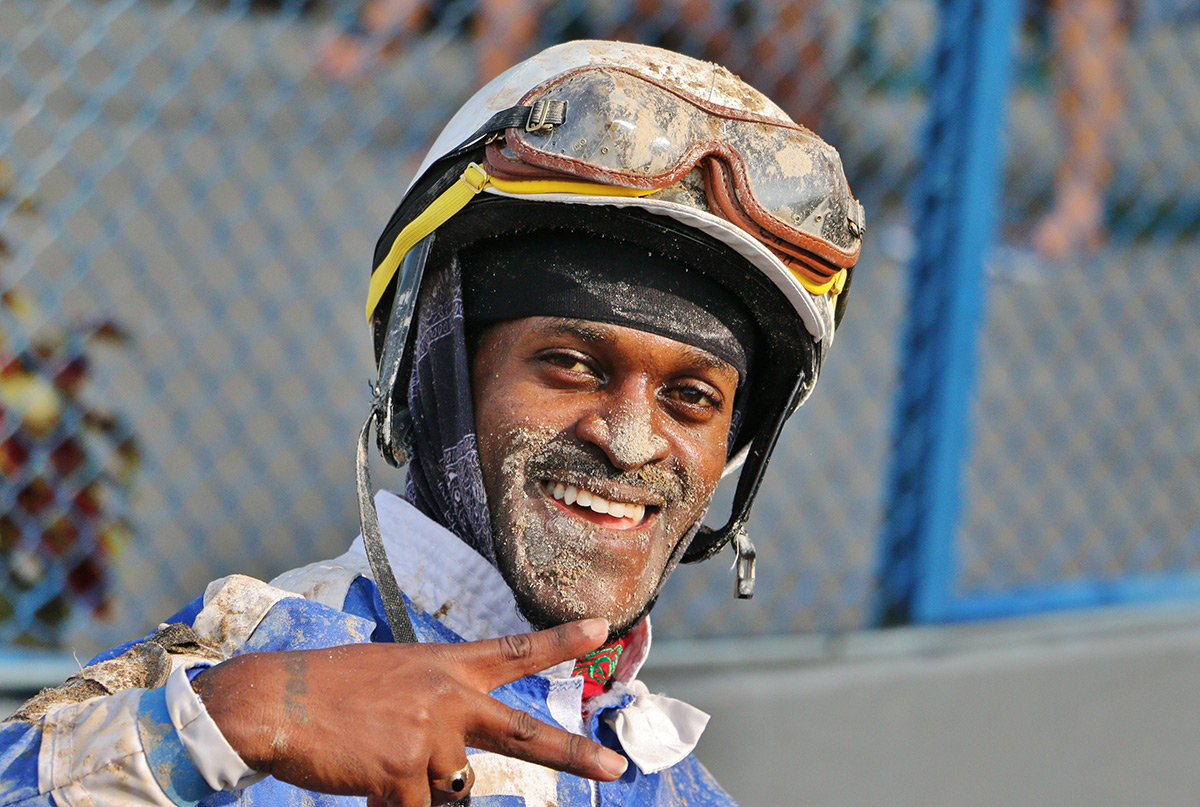 Christopher Husbands from Barbados repeated as a champion jockey at Canada's Fort Erie racetrack this week after solid performances in the final weeks of the season.
Steering the 1-5 favorite Milwaukee Bay to victory in Monday's final day first race, Husbands finished the five-month-long season with 32 wins, two ahead of title rival Melanie Pinto, who went winless on the last day.
The three-year-old filly Milwaukee Bay, trained by Daniel Wills, was held off the pace by Husbands and flew past the front-running 8-1 bet Cloud Runner in the homestretch to win the CAN$14,700 Maiden Claiming event by 4-1/4 lengths. Milwaukee Bay clocked one minute, 49.02 seconds for the mile and sixteenth trip.
Three other Caribbean riders finished in the top six of the jockeys' table – Jamaicans MarkLee Buchanan (24) and Kirk Johnson (20th) at fourth and fifth, respectively, with Barbadian Juan Crawford sixth on 19 wins.
Husbands, 32, won his first Fort Erie title last year and now has four jockeys' championship titles in Canada, having lifted crowns at Assiniboia Downs in Winnipeg in 2014 and 2016.
As a 16-year-old, Chris Husbands had won the 2006 Trinidad Derby aboard Sara's Music, and he now has 590 career wins in Canadian racing.
In the past dozen years, Crawford, five-time champion Johnson, and the Barbadians Chris Griffith and Terry Husbands have also been Fort Erie champions.
This 2022 leading jockeys' triumph for Chris Husbands makes it ten times in the last 12 years that a Caribbean rider is No.1 at Fort Erie.
By Lance Whittaker | SportsMax
---
Christopher Husbands is no stranger to the Garrison Savannah or the Barbados Gold Cup.
Born and raised in Barbados, the 30-year-old jock has ridden in five Gold Cup races over the last 14 years. His last mount was Derby Kitten in the 2016 edition of the race. On March 7, he will pilot Rising Star to claim Gold Cup glory and secure the $60,000 US ($120,000 BDS) purse attached to the win.
A veteran horseman, Chris Husbands, started his career at the Garrison Savannah about 15 years ago.
In 2006, at 16, he captured the Trinidad Derby with Sara's Music. A year later, Husbands moved his tack to Assiniboia Downs. He caught two riding titles out west before moving his tack in 2015 to Woodbine Racetrack. Last year, he captured the Puss n Boots Cup Stakes with Reallylikethisone and the Andy Passero Memorial Cup stakes with Surfs Edge at Fort Erie racetrack.
Returning to Barbados to ride in his sixth Gold Cup, the jock remains confident in his mount. Despite Rising Star's troubled trip in the Coolmore, Husbands now feels good for the horse.
"I love most that he can handle the turns. That was my biggest fear going into the Coolmore, but he handled the track well. Most horses that ship in don't take turns too well; they are tight. But he handled the track moving pretty nice, and it was good," said Husbands.
Nestled in the heart of the south coast, The Garrison Savannah features some pretty tight and compact turns. The tight turns can be somewhat daunting for horses who've shipped from abroad and have never run clockwise. Yet, with the Coolmore done and rather dusted, Husbands thinks the Canadian-bred colt will find his footing next time.
"Well, judging from the last race and those other horses, I like that he can get the distance, and I've just gotta keep him out of trouble," said Husbands.
Trainer Sylvester Ollivierre and jockey Chris Husbands will join Rising Star in Saturday's Gold Cup.
Interestingly, Husbands will face off against his brother and Champion Barbadian jockey Rasheed Hughes. Hughes worked Rising Star in the morning while Husbands was riding at Tampa Bay. Hughes will be looking for back-to-back Gold Cup wins on Celestial Storm. The classy grey mare and daughter of Get Stormy are owned and trained by Roger Parravicino.
Although Rising Star doesn't know it (or maybe he does), the colt will carry the hopes and vibrant dreams of a first Gold Cup win for both trainer and jockey.
Husbands is quick to admit that winning the Cup would be a particular moment in his riding career.
"It would be awesome – that's the truth. I don't think words can explain it, but it would be pretty good."
By Hayley Morrison – fansofhorseracing.com
---
Jockeys Agent | Paul Souter | +1-905-380-8829
---
Christopher Husbands – Social Media
Google Images
Facebook
Instagram
Twitter
---
Interesting Articles
April 7th, 2023 | Article Name | By Name for
---