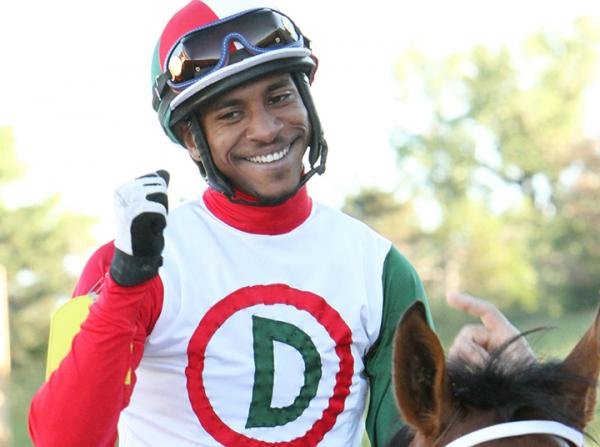 Rico Walcott is a Barbadian jockey in Thoroughbred horse racing who competes in his homeland, Barbados and Canada.
Rico Walcott won the 2003 Canadian Derby at Northlands Park in Edmonton, Alberta, and was the top rider for the 2007 summer meet and the season overall. Also a leading jockey at Stampede Park Racetrack in Calgary, he captured his first Alberta riding title in 2007.
By: Wikipedia, the free encyclopedia
In 2007 jockey Rico Walcott followed his older brother Rickey to Alberta from Barbados and was immediately spotted as a Rising Star. At that time, Rico said, "I'm trying to head to the top; it's where I want to go." And that's precisely where he went!
He's been the leading rider in Alberta for the last six years and is already on top of the jockey standings at Northlands Park for 2017. Incredibly humble, Rico states that the key to his success is to "never worry, just ride and never look back!" This feature went to air in 2008. See the video from Horse Racing Alberta on YouTube. Video compliments of thehorses.com.
Jockey Rico Walcott is no stranger to being asked questions about his career. Even more so of late, given his return to the saddle after undergoing surgery for a brain tumor.
Asked about the tumor, Walcott's voice softens.
"Well, I don't worry about nothing more in life," he said. "It could have been the end of my life the other day when I had those seizures, so I don't worry about anything anymore. I don't worry about money or anything. I'm just living daily because I could have been gone pretty easy, like that."
For a jockey who is usually making headlines with stakes wins, the news of his brain tumor struck a very different chord within the racing community; a chord that left his fans in Canada and his home country of Barbados wondering what the future would yield for the 30-year-old jockey.
Read the entire article about Jockey Rico Walcott being Worry-free After Surviving Brain Tumor
By: Hayley Morrison | October 4, 2019
---
Jockeys Agent | Anthony Esposito | +1-416-727-1431
---