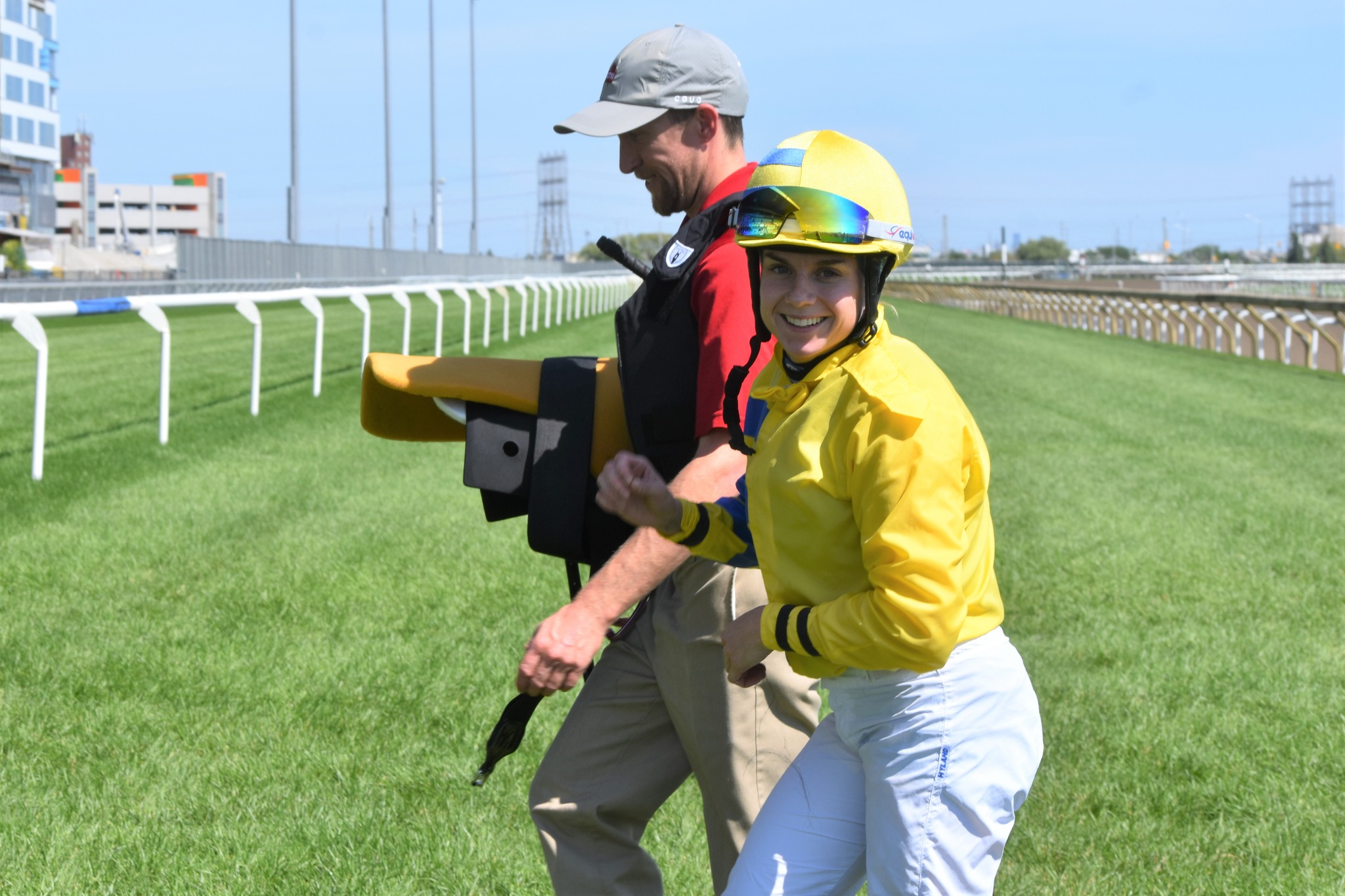 Isabelle Wenc stands less than five feet tall and tipping the scales at 105 pounds, Isabelle Chloe Wenc isn't an intimidating athlete – until you place her on top of a racehorse.
The talented 21-year-old from Saskatoon hopes her talent as one of the few full-time female jockeys in Canada will translate into a long and rewarding career.
This is what I want to do for the rest of my career," said Wenc, who arrived in Osoyoos in February 2013 to begin several weeks of training for the upcoming racing season at Northlands Racetrack in Edmonton, home of Canada's second-largest thoroughbred racing facility behind Woodbine Racetrack in Toronto.
Wenc recently left Osoyoos to head to Northlands for the beginning of the 2016 race season.
"This is all I've wanted to do since I first started working with horses. I just love everything about the industry and I'm hoping I can have enough success to make a good career out of this."
Wenc didn't grow up in a family that owned or trained horses, but her mother had a best friend who introduced horses, and her mother brought her along to visit that friend when she was a young teenager.
"I grew up as a little girl loving horses, but I didn't ride one until I was 13 or 14," she said. "My mom brought me one day to visit her friend and that just sparked everything.

"Soon I was feeding her horses, then washing them and brushing them. From the first time I climbed on top of a horse, I can honestly say that I wanted to be a jockey."
She continued working with horses throughout high school and convinced her parents to allow her to try working as a groomer at a racetrack in Winnipeg after graduating high school.
"My parents wanted me to go to college, but they knew how passionate I was about horses, so they allowed me to leave home and go to Winnipeg."
She knew working with horses was her destiny, but she missed home and returned to Saskatoon a couple of years later and continued her career at Marquis Downs in Saskatoon.
"I was training horses, but the people I was working with knew I had aspirations to become a jockey," she said. "Finally, in August of 2014, I tried to obtain my jockey license."
Applying to become a jockey isn't easy as you have to prove to experienced stewards that you know how to handle a horse under all circumstances before, during, and after races, said Wenc.
"You have to prove you can handle the horse, get into the gate properly, and basically show you're in complete control," she said. 'If the stewards are confident you know what you're doing, they grant you a license."
Wenc had just turned 19 when she officially became a professional jockey.
At the end of the 2014 season, she raced several times but didn't win a race.
That all changed last year as she gained experience and proved to owners that she had the talent and work ethic to ride winners.
She won 11 races at Marquis Downs during the 2015 racing season.
She spent six weeks late last fall racing at Northlands in Edmonton but was up against many of the top horses and jockeys in the country and didn't manage a win.
This year, she aims to move to Edmonton and race at Northlands for the 2016 horse racing season.
"When I leave Osoyoos, I'm going to get an apartment in Edmonton, and the plan is to race there all year," she said. "Northlands is one of the best tracks in Canada, and I know it's going to be tough at first because no one knows me there, but my job is to prove I'm a good jockey and hopefully get a few good owners on my side."
Wenc said the Desert Park facility in Osoyoos has an excellent reputation with horse owners and trainers across western Canada, and that's how she ended up here.
"I had heard about Osoyoos for the past couple of years and really wanted to come here last year but just couldn't make it," she said. "It's a great facility to get the horses ready for the race season and a great place for jockeys to come and get in shape for the season as well."
Winning her first race as a professional jockey was one of the thrills of her young life, said Wenc.
"It's an adrenaline rush every single time I get on a horse, but to head down the stretch and win your first race was truly incredible and a feeling I know I will never forget.

"I managed to win another 10 races and the adrenaline rush when you cross the finish line in first place is something I know I'll never get sick of."
Being a young woman in a male-dominated sport is challenging, but Wenc said most of her fellow jockeys have been very supportive and encouraging.
"Most of them are very respectful, but I'm pretty small, and they like to make fun of that," she said. "The guys are a lot bigger and stronger than me, so I have to gain a competitive edge in other ways.

"A lot of the guys really drive their horses hard, so I try and use a gentler touch to gain a special bond with my horses and hopefully that results in them going as hard as they can when I push them in a race."
Her parents have been very supportive since she turned pro and will be making the trip from Saskatoon to Edmonton to watch her race as often as possible, said Wenc.
A handful of well-known female jockeys have made a solid career in thoroughbred racing in Canada and the United States, and Wenc is confident she can join their ranks.
"I'm only 21, and I have a lot to learn, but I have a passion for this sport," she said. "I couldn't imagine myself doing anything else, and this is all I've ever wanted to do, so I consider myself blessed to be able to pursue my dream."
Wenc said she would "most certainly" return to Osoyoos.
"It's a beautiful little town, and this facility is excellent," she said.
By: Keith Lacey for the Osoyoos Times
---
Jockeys Agent | Weight: 108 lbs | Jeff Stritzel | +1-647-409-7173
---
Jockey Isabelle Wenc on Social Media