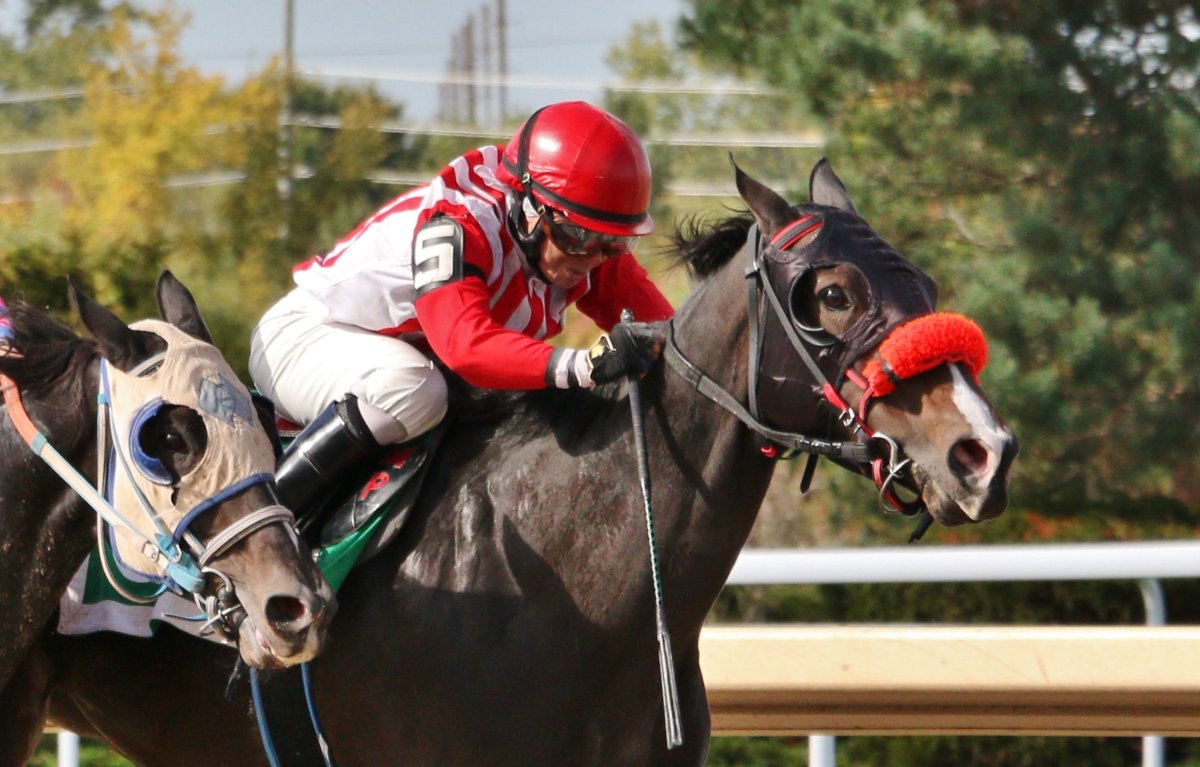 Melanie Pinto stands 5'0″ tall and tips the scale at 105 pounds. But don't let the tale of the tape fool you – once the gate opens, the diminutive jockey is as tough as they come.
You can't help but notice the warm smile and big laugh when you first meet the 34-year-old rider, the same one who finished second in the Fort Erie standings last year.
Yet, behind that friendly demeanor lies a fierce, full-out competitor, a hate-to-lose athlete that doesn't cast aside a bad result easily.
"I'm a pretty competitive person," said Pinto with a laugh. "I strive to succeed in whatever I happen to be doing. I still want to win if I'm playing a board game with someone and I've never played it before. Whether I'm fishing or mini-golfing, whatever I happen to be doing, I want to win."
And a win is precisely what the native of Brampton, Ontario, Canada, did in 2014 at Fort Erie.
Pinto had 29 wins from 141 mounts, producing a stellar 21 percent strike rate and 71 top-three finishes, good enough for a 50 percent mark in the category.
The multiple stakes-winning rider was understandably pleased with the numbers.
"I'm not someone who writes down a list of goals," admitted Pinto, who began her thoroughbred career at 26. "It's too much stress. Things can happen in a heartbeat that alters your expectations."
Case in point, the opening day of the 2015 Fort Erie meet is on June 2.
In the seconds leading up to the start of the sixth race, a maiden claiming event, Pinto had to contend with a fractious filly named Karla B., the fourth choice on the tote board at 9-1.
When the gates opened, the Ontario-bred chestnut threw her head back and hit Pinto square in the face, sending her crashing to the ground.
"Not the way you want to start the year," she deadpanned. "I'm a little bit sore, but I'll be back tomorrow (she was). These are the moments you know going to come. You have to be willing to accept that. If not, you're in the wrong sport. You've got to be tough. And you have to realize the races will go on without you. Someone will replace you and ride the horses you're supposed to be on. That's the nature of the business. "
A business that Pinto, who won her first two races in one day, and teamed with Spread the News to win the 2009 Don Valliere Cup, works overtime to be successful at.
The Fort Erie resident works as many horses as she can find in the mornings, then trades in her saddle for a sheet of paper when she visits various barns as an agent.
"I've done it for the past two years, and it's been good for me and my career," offered Pinto. "Sometimes you need to make tough decisions about what horse you opt for, but to me, it's all about being upfront with the trainers. I think of myself as loyal, and that's what you want in return."
While she must make serious choices as an agent and a rider, it doesn't mean Pinto is all business regarding her career. On opening day at Fort Erie, she proved she's got all the right moves, or at least some interesting ones, when she took part in a dance flash mob at the racetrack.
"Danced like an absolute fool," she laughed. "I've been inside bouncy castles with little kids when we have special family-themed days, too."
Pinto has even helped Fort Erie become an animal kingdom of sorts.
"I have two dogs, both mutts, named Kevin and Michael," she said. "Kevin hangs out with me in the jock's room occasionally. He's become a mascot at the racetrack and has even made appearances on the pre-race show. I also do Hunter show jumping, and my horse, a retired thoroughbred named Cover My Six, will be at the track to meet fans on certain days."
Fort Erie, the place, and Fort Erie, the area known as the border oval, are just where Pinto wants to be.
"It's a beautiful town, and it's a beautiful racetrack," she offered. "You see many happy people wherever you are at the track. I'm thrilled to do what I can to put more attention on the racetrack. I love it when you see young kids at the races. I'll bring a few to the jocks' room, dress them up like a jockey and give them a pair of goggles. That's the future of our sport, and this is my livelihood. Why wouldn't I want to play my part in seeing our sport thrive?"
Especially someone with a winning attitude no matter where or what she's doing.
Article compliments of Ontario Racing
---
Jockeys Agent | Paul Souter | +1-905-380-8829
---
Interesting Articles
April 7th, 2023 | Article Name | By Name for
---